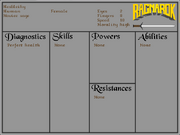 This screen can be accessed by pressing C, or clicking on the Self button.
You start the game with no skills, powers, resistances, or abilities, in perfect health, with 2 eyes, 8 fingers, a speed of 10, and high morality.
This area lists the following items:
name
race
level and current class
gender
# of eyes
# of fingers
speed level
morality level
There are 5 areas here.
Blind
Confused
Deaf
Diseased
Dyslexic
Immortal
Impregnated
Lycanthropic
Perfect health
Unable to heal
Vertiginous
Withered
Alchemy
Cartography
Diagnosis
Embalming
Fennling
Golem shaping
Husbandry
Ironworking
Fletching
Origami
Relocation
Taming
Slave usage
Ventriloquism
Animation
Dimension Travel
Fire vision
Heat radiation
Mind control
Psionics
Spellcasting
Terraforming
Acid
Cold
Death Ray
Heat
Petrification
Poison
Ray/Breath
Teleportation
Acute senses
Identification
Levitation
Music
Sixth sense
Swimming
Telepathy
Weapon abilities (Long bow, Crossbow, Knife, Spear, Boomerang, Shuriken)
Weaponmaster
Ad blocker interference detected!
Wikia is a free-to-use site that makes money from advertising. We have a modified experience for viewers using ad blockers

Wikia is not accessible if you've made further modifications. Remove the custom ad blocker rule(s) and the page will load as expected.